Posts Tagged 'Kitchen and Bathrooms'
Can we put hardwood in the bathroom? Traditionally when we see a bathroom or kitchen with parquet our first reaction was puzzlement. Being a material that remains "alive" and therefore remains subject, by changes in temperature and humidity of local contractions or expansions, we think it impossible that the pavement is adequate for these wet areas.
In the bathroom and kitchen, in many cases there are significant changes in environmental conditions suitable and recommended for the proper use of a wooden floor. Recommended values are 45-65% relative humidity and a temperature between 15-30 º C.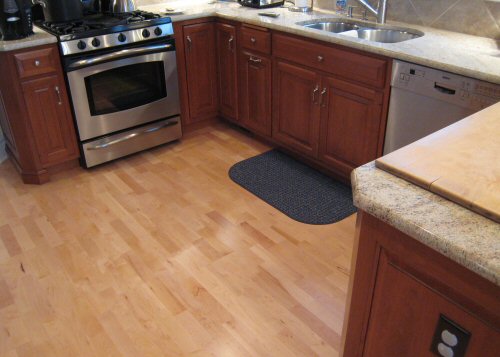 Thanks to years of continuous study and research to improve the performance Listone Giordano offers tranquility can use your wooden floor for these areas knowing that they will be a constant water … The ingredients of this remarkable stability are building technology support (duestrati system), the resistance in the bonding of the layers, the accuracy of the finishes, and waterproofing treatment on the varnished parquet SIGILPLUS through a special product, which when applied after placement allows perfectly seal the joints between tables in order to avoid.
penetration of liquids between them.
Regarding the choice of finishes for the implementation of much more appropriate Sigilplus a parquet parquet varnish that not an oil. Regarding the choice of wood if you can fully adjust to taste any type of wood can be put into any environment whether it is technologically well treated.
The bathrooms spaces historically sacrificed to benefit the rest of the home, regain volume and importance as new living space with wood flooring Listone Giordano.