Maybe you have not passed yet, but the fact is that when you choose furniture for the exterior of your home, there are several important things to consider. It is essential to know the degree of resistance of the furniture to the elements, as well as the care they need to be kept in good condition.
At present, there are four materials that are used primarily in the manufacture of furniture for gardens or outside:
IRON
It is the classic material, which constructed the first outdoor furniture.
Advantages: Unaffected sun provides versatility and design that allows very simple or very elaborate.
Disadvantages: Low resistance to humidity and rain that can be oxidized. Not practical for most beach areas exposed to moisture.
Care: Clean regularly with a damp cloth and possibly paint every year. Well protected, iron garden furniture generally last a lifetime.
WOOD
The use of wooden garden furniture is relatively new, the traditional wood are not recommended for exterior, seriously impairing the sun faded and dry and rain the cracks. Only teak resists such problems. Teak is a species of a Southeast Asian tree that supports the most extreme climates.
Advantages: Can keep day and night on the outside and its protection is very easy.
Disadvantages: The high price of teak, which is higher than any other outdoor furniture.
Caution: Due to the resins and oils that contain, do not need additional protection. Can be easily cleaned with soapy water. Once a year we recommend applying a coat of teak oil.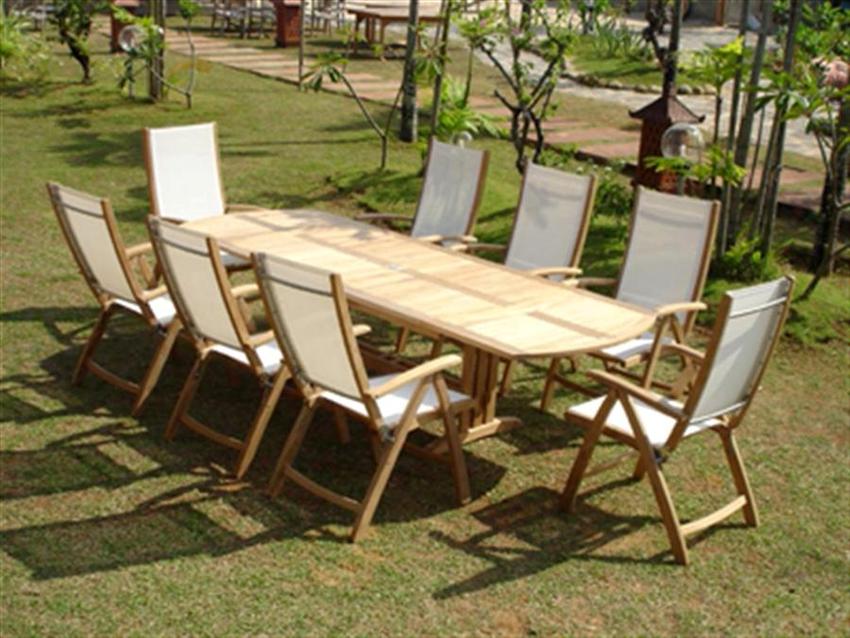 Natural fibers (wicker, JUNCO)
Advantages: The tropical origin of these materials ensures a good resistance to external agents like the sun and rain. They are very tolerant to moisture. Moderately priced and very durable. Are kept in perfect condition for 5 to 10 years and, like iron, natural fibers are very shapeable and give a choice of wide variety of designs.
Disadvantages: In reality, the disadvantages are minimal with these fibers, perhaps only the fact that if too wet finish to weaken. The wicker is the most problematic, because due to their fine structure threads linked dirty and easy cleaning is a bit complicated.
Care: Shelter from the rains, frequent cleaning with a dry cloth or soap and water if they are very dirty. Varnished once a year or every two years at least.
SYNTHETIC FIBERS
Advantages: They are cheaper, are not affected by the sun or rain. Currently there are variety of designs and finishes, are available in various colors, matte and shiny, even those that mimic natural fibers. They are very light and most are stackable.
Disadvantages: They are somewhat cold, and therefore may be accompanied with fabrics and fashion lately is combined with loneta of striking colors.
Care: Clean easily with damp cloth.
Possibly Related Articles: