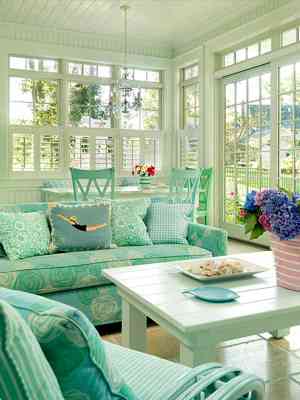 Dear friends, we talked earlier about decorating trends for this year 2012. Green is one of the colors that we see this spring. It's a beautiful color combination correctly harmonize our rooms.
The green water is one of the most frequently mentioned, but in general all shades will serve us during 2012. If you want to decorate some of your visits to apple green, olive, pistachio .. Today we leave some advice.
Think of the range of greens, the more pull the yellow will be more difficult to combine, but can be perfectly and gives plenty of light. The more you pull into the blue, the stay can look duller. Knowing this we find the colors and tones that combine and build on these colors.
According to the look you want to get or achieve the effect you want can be perfectly combined with the olive brown .. elegant combination also with a nice shade of purple.
The color will go perfectly with pistachio shades with orange or yellow, so we will provide joy to our spaces. The beautiful green apple, I personally love this color, is perfectly contrasted with a vivid red.
A green avocado paste perfectly with a nice chocolate, for example for the salons. A color that goes well with these green is gray.
Remember that there are rooms that perhaps is better to apply a base color like white and green leave it alone for accessories and decorative accessories.
In the market we can find all sorts of items in green, from the kitchen tiles, paints, tiles, furniture, textiles, wall coverings and much more in this wonderful color!
Possibly Related Articles: