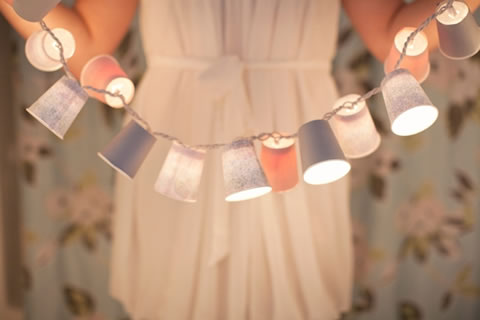 Wreaths are a widely used when decorating the house parties, gatherings or special moments … They come and they can make all kinds, but I found this idea is really original:
This is a simple and lovely garland. A very delicate garland and lights.
The resulting effect on the environment once integrated into the decor is beautiful. Create a very delicate, original, almost magical, with a special charm. Furthermore, it is a perfectly valid embellishment to decorate any at any time: a meeting between friends, a family dinner, a birthday, a children's party at Christmas, a farewell, a wedding …
The only materials needed to make a wreath like you see in the picture above are: a strip of lights, paper cups (it is important that they are not paper and plastic to ho threatens to burn with the heat of bulbs), and patterned paper cutter.
The steps are simple. The first thing you do is cut the patterned paper into strips to stick on the vessels and thus cover them and decorate them. Once the glasses are decorated with paper, you have to make a cross in the center of the base of the cup and cut it (this is only to make two small cuts. Once everything is prepared only introduce small bulbs strip lights on the vessels, the bulb is inserted right where we made the cuts with the cutter.
A simple idea with lots of charm to decorate your parties or meetings.
Possibly Related Articles: