Archive for the 'Home Accessories' Category
In the space of today we'd talk about the centerpieces. These decorations are perfect to highlight and give a nice touch to our tables. Perfect for all types of events such as weddings, communions, baptisms, birthdays .. centerpieces are the decorative elements adapted to any type of event.
Whether you're an adult, child, adolescent, whether it's spring, winter .. There are many types of situations centerpieces as we live. We can also opt for thematic centers, craft centers, flowers, fruits .. On the other hand you can also make them ourselves, even with recycled materials .. We leave this work to professionals.
Looking for ideas will find thousands of original designs or elegant, bright, children, theme .. that seeks to fit the needs of your event .. if in the end prefer to do it yourself, just go to your creativity and patience sometimes. Read the rest of this entry »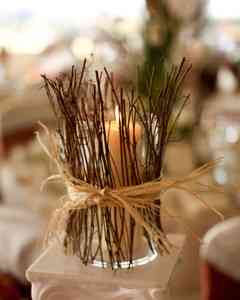 When we think of summer, we get the best memories of meals and snacks to be enjoyed during our short summer vacation. And we always love getting home. But when they come friends and family we also have everything from luxury to feel comfortable and that they perceive that you have excelled at everything because you love receiving them. And for that, today we bring you a cute centerpiece with candle for the summer, for when you want a long lunch to last until the sun has gone and when you want to remove the bugs, in a decorative manner.
The centerpiece for the summer with a candle, scented candles advantage that you can easily find today in a shop, and not have to invest a lot to be original, just some dry leaves and stems of some loop natural tie, it is important that the stems are not too near the candle and it is where we can watch her, the ideal is put on a cute and decorative bowl with water. Read the rest of this entry »
Cushions are important in the decoration of the room, because only the use of them can change the style of the environment, impart an air of casual or formal, depending on the designs and materials and clear you can always recycle something that is vital in these times of crisis. So today we have chosen a collection of charming pillows for summer 2012, with colors and designs in keeping with the season.
And our choice is H & M Home Division decoration of the famous brand of clothing for the whole family, who is credited also superb collections of bedding, curtains, linens and other accessories to help improve and make even more attractive the decoration of the hall, kitchen, bathroom, garden and around the home. Read the rest of this entry »
The vintage style decoration reached its peak. Today we see this style in furniture, textiles in a variety and multitude of decorative items such as pictures, vases and other details.
Here you have seen, over many items, like vintage include in our rooms. Designs which show impressive collections of vintage dial, which we implement in our spaces. Read the rest of this entry »
If you're one of those people who love the holidays because you can decorate your home outside, led Christmas lights are just what you need to brighten up your holidays. Led lights will help you outshine your neighbor, showcasing your home as the brightest on the block. If you live out in the country, even better. Your Christmas lights will be seen even by distant neighbors or people driving down a nearby roadway. If your home has interesting architectural features, like dormer windows, you can spotlight these features with Christmas lights, making a gorgeous display for travelers on the road.
You're probably driven by other houses which were all lit up with Christmas lights and sympathized with the homeowner, knowing their electric meter was furiously spinning away. With holiday leds, there is no fear of opening January's electric bill, an led light uses less electricity than a traditional, incandescent light, up to 50% less.
Another advantage to using led Christmas lights outside is that they last longer. If you've ever taken down your holiday display sooner than you would have liked to because of burnt out bulbs, you will appreciate the long life span of led lights.
Of course, holiday leds are not just for decorating outside. There is an almost infinite variety of led lights for inside use and since these lights do not emit heat, they are far safer. They will not set your Christmas tree on fire and you can use them in your windows without fear of setting your curtains on fire. These Christmas lights are especially recommended for inside use by families with small children as most toddlers are drawn to the Christmas lights and an led light won't burn their tiny fingers if touched. .By using led lights, you can have a safer, brighter holiday and use less electricity doing so.
One of the main design traits you must consider when making changes to your home decor is vibrancy. Vibrancy covers both colour and pattern. When a room is considered vibrant, this usually means that it is rich and textured; it will stimulate an individual's senses. If you consider yourself someone who is vibrant, then it would be worth considering a more vibrant decor for your home.
Some of the most pivotal points of a vibrant room are the windows. This is because they are the focal points for most of the light that enters a room. This means they are probably the best place to start when considering vibrancy.
Roman Blinds are a great choice for any window, as well as Venetian Blinds which are also becoming quite popular lately. Roman Blinds have a nice earthy and artsy feel to them. Their name actually comes from the fact they date back to the Roman Times, when designs were simple and effective. Roman Blinds are fabric based blinds that draw up into a series of folds, and then unfold when let down. Because of their fabric nature, Roman Blinds become hugely customisable, and are available in all sorts of colours and patterns. The next few things are a few pointers on how you can implement these blinds and their colourful patterns.
Colour
Warm colours tend to be considered more vibrant. Warm colours are colours like reds, oranges, and yellows. If you have a variety of colour in your room it will look alive and active. This is good, but it is possible to take it too far. It's probably best to stick with around 3 colours.
Patterned Roman Blinds will probably include one or two colours themselves, so it's advised that you use the colours featured so that everything in your room matches. You could even be edgy and use different patterns if the colours are exactly the same.
Pattern
The next major design element to consider is the actual pattern.  Patterned Roman Blinds come in all sorts of varieties including classic patterns such as: plaid, paisley, geometrical designs, stripes, polka, and even artistic design such as famous paintings. Although I said earlier that you can be edgy and pick different designs if the colours are the same, I wouldn't really recommend it unless you know the different patterns will work with each other, such as dots and stripes. If you don't do this properly then you will ruin the whole look of your room.
Balance and Symmetry
The patterns you choose might not be symmetrical, but it's a factor to be aware of none the less. There is a balance that is needed in a room, which is greatly influenced by symmetry. It doesn't need to be a literal symmetry, but more an overall symmetrical feel. A very asymmetrical room will feel odd. This one is difficult to describe, it's one of those things that you have to "feel". Don't be afraid to experiment and move things around.
Why don't you experiment with patterned Roman Blinds and see what result you can come up with. They may be the perfect thing to give your room the vibrancy it needs. These are classic window coverings that have as much charm and artistic appeal as they did to the ancients.
Today we propose to fill the house with small details that will help us enhance the decoration of our home. So we offer a fantastic idea, stained glass chandeliers! It is not necessary to pull the pocket to put our house well cute!
The materials that we will get a glass container that we like, specific paint for glass, a small roller, pasta relay, a pen and a small candle. Remember not to put a candle it generates too much heat … we do not want any accidents!
To start with this beautiful stained glass chandelier, make a drawing that we like on the glass itself. To do this we must help us in a pen, is going over the lines and drawing lines on the glass we have chosen. Read the rest of this entry »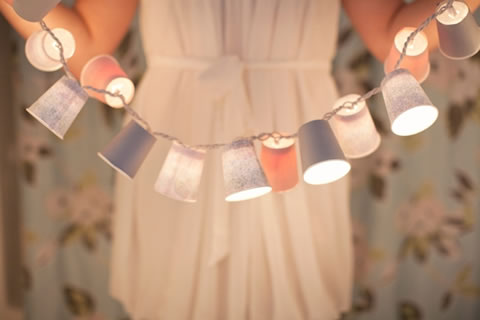 Wreaths are a widely used when decorating the house parties, gatherings or special moments … They come and they can make all kinds, but I found this idea is really original:
This is a simple and lovely garland. A very delicate garland and lights.
The resulting effect on the environment once integrated into the decor is beautiful. Create a very delicate, original, almost magical, with a special charm. Furthermore, it is a perfectly valid embellishment to decorate any at any time: a meeting between friends, a family dinner, a birthday, a children's party at Christmas, a farewell, a wedding … Read the rest of this entry »
The calendars can be decorated with both corporate and personal images and are an ideal to add on any desk. Besides occupying a small space, calendars help keep up to date various work commitments or deadlines.
The range of calendars available from Vistaprint offers both standard designs as characterized by photographs, making it possible to adapt both business and personal use.
Corporate use
In business, personalized calendars are always useful on any desk or office. Besides being a functional and practical item are very useful for our employees and become an advertising platform improvised in case customers come to visit the office.
Alternatively, the calendars can be created explicitly as articles and marketing tools, delivering them to customers as freebies. Read the rest of this entry »
In today's article we leave you with another great idea or suggestion regarding concerns centerpieces. Dress your surfaces with autumn style!
For this note that the fruits have an important role in this type of decoration, including find oranges, lemons, pears, apples, pumpkins …. Whether fresh or dried fruits are ideal for beautiful compositions due to its pleasant scent and color.
Play complete with fruits such as cranberries, chestnuts, seeds, nuts, mushrooms … all these elements combined with perfect qudarán glass containers. Read the rest of this entry »